With birthday money in hand, and Christmas around the corner... this girl is spending a lot of time surfing the web for all kinds of goodies! Here are a few of my favorite places to browse!
Lindsey @ The Pleated Poppy Shop... How will I choose?!
Handmade petal drop necklaces, pouches, petal pushers and posy pins... some of the cutest accessories on the web!
Vanessa @ The V&Co Shop... Patterns Galore!
I just LOVE all of the patterns in Vanessa's shop! Most of them are on my sewing "to-do" list! 
Jessica @ Allora Handmade... Gorgeous Rosette Accessories!
I bought an awesome grey rosette necklace last year @
Queen Bee Market
, and EVERYTIME I wear it I get tons of compliments!
Lisa @ Lisa Leonard Designs... Beautiful Handmade Jewelry!
Lisa's jewelry is so incredibly stunning! Each piece is detailed and personal... and just lovely.
Speaking of shopping... this is where I'll be heading this weekend...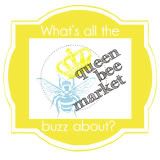 It'll be fabulous... and I'll spill all the juicy details later! Happy Wednesday!